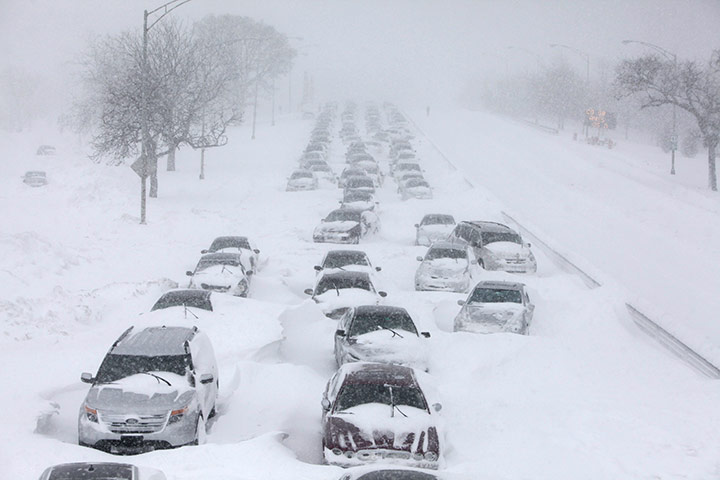 Here are a few tips and information to get you and yours prepared to deal with winter's travails. Some of this is knowledge and some of this is physical preparation; either way, commit to some action now so you don't have to deal with precarious, not to mention cold, situations later.

Bookmark this post in case you ever need quick access!
The Federal Emergency Management Agency took its lumps after its Hurricane Katrina response, but for the most part they know what they're doing. Here's a great video and supplemental info on how to prepare before, during, and after winter storms.
How to Drive Safely in the Winter
Perhaps one of the most difficult/frustrating parts of a winter storm is driving sharing the road with other people that don't know how to drive in the winter. Check out this good AAA tips video below and go out and practice in an open parking lot next time it snows.
Tires
Here in the immediate DC Metro area, we may not average enough annual snowfall to merit such a purchase (debatable), but I'd highly consider purchasing a set of winter tires/wheels if you're at all concerned or not confident in yours or loved ones' driving skills. Winter tires can often make all the difference, especially when tractions technologies (including 4WD and AWD) fail. Check out this more technical BMWblog discussion on the technologies behind winter tires.
Winter Weather Travel Kit
At the very least, I'd strongly consider purchasing some sort of winter automotive emergency kit. Surely consider spouses and children in this decision as well. It may be a great idea to put one of these in his or her trunk just in case.
Weather Road Trip Planning Tool
With the threat of adverse winter weather in the region, people will often ask me for advice regarding travelling; specifically driving. There are spartan mapping tools that take into account weather conditions, but the National Weather Service has recently come out with a nifty experimental application that allows users to create custom weather maps and track future weather along the path of one's road trip.
So if you're wondering what the weather will be like all along your route to Kalamazoo to visit your in-laws for Christmas, and more importantly if you'll need to postpone or detour because of bad weather, now you'll know!